Treatments & Packages
The Spa at Stonehedge is a unique hideaway day and wellness spa in Tyngsboro, Massachusetts. You don't have to be an overnight guest to be pampered like one at The Spa, offering the perfect respite from stressors of everyday life, and featuring a tranquil private atmosphere designed to calm your inner soul. The Spa at Stonehedge is open daily, including Sundays, from 9:00am – 7:00pm. Spa treatments are by appointment only. Dine in our spa from our seasonal Spa Lunch menu, available daily from 11am - 5pm.
Spa therapists at The Spa at Stonehedge specialize in a variety of face and body modalities to relax, refresh and restore your body. Spa treatments include Massage Therapy, Body Polish Treatments, Hand and Foot Treatments, Facials and Skin Care, Spa Dining, Spa Packages and Retail Products.

The Spa at Stonehedge, located in a separate building from the hotel, offers an indoor/outdoor pool, Jacuzzi, steam room, sauna and beautiful treatment rooms, all designed with European marble, soaring ceilings, and skylights. A private outdoor patio provides a quiet retreat for those wishing to sun bathe.
NOTE: A service fee is not added to the price of your treatment for small parties. A 20% gratuity for your Spa Therapist will be automatically added to guests receiving three or more spa services or to parties of three or more and to our package specials.
VIEW TREATMENTS
Now Offering Weekday and Weekend Pricing.
SPRING SPECIALS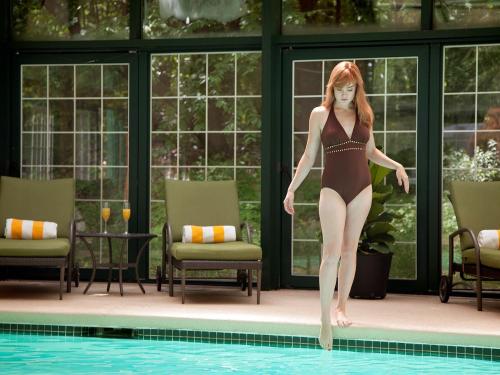 Spa Happy Hour
Join us for our popular Spa Happy Hour! Treat yourself to a 25 minute aromatherapy massage and a 25 minute facial along with a complimentary glass of chardonnay, cabernet, or champagne. Unwind in our four-season hot tub and pool, as well as the steam room and sauna. $120

Available weekdays from 3:00 pm - 6:00 pm
NOTE: For each treatment listed we offer different pricing for weekdays and weekends. holidays falling on a weekday will follow weekend pricing.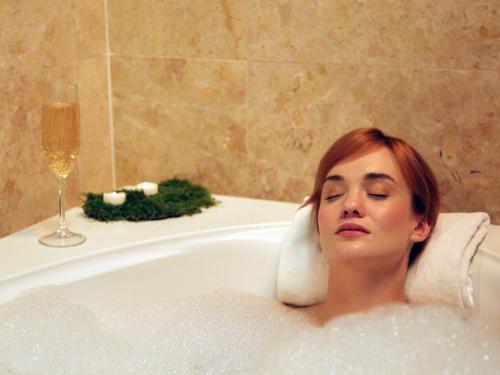 Massage and Facial Combo with Spa Lunch
Unwind and rejuvenate your body, mind, and spirit with our spa Massage and Facial combo. Our classic massage with aromatherapy will melt away your tension and stress, leaving you feeling completely restored. You will have your skin pampered with our classic facial using anti-aging botanicals to refine and nourish your skin along with relaxing hot towels, and soothing aromatherapy lotion. Enjoy a poolside spa lunch before or after your treatments. 80 minutes $210 weekend / $195 weekday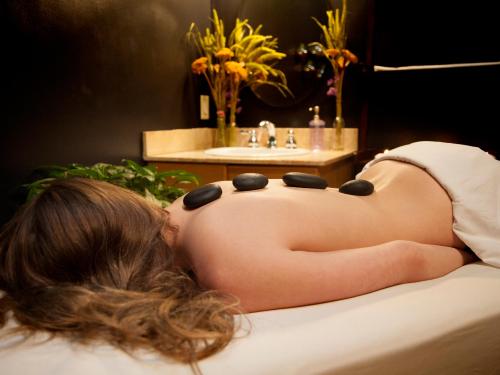 Ultimate Massage Sampler
Immerse yourself in our luxury massage sampler. Your talented therapist will tantalize your senses with a relaxing aromatherapy massage targeting any areas that need extra attention along with a back massage incorporating hot stones. You will also receive an aromatherapy foot scrub that will leave your feet feeling soft and smooth.
50 minutes $135 weekend / $125 weekday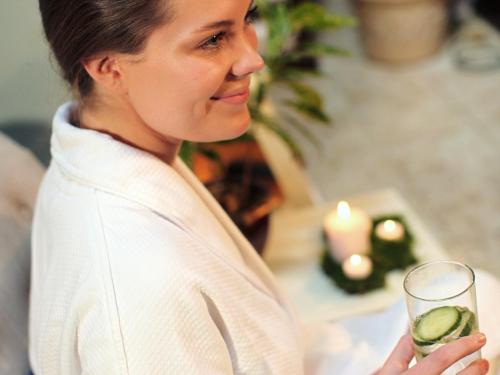 Ultimate Spring Facial
Rejuvenate dry tired looking winter skin with our exquisite medi-facial. Enjoy a cranberry enzyme exfoliation along with our professional deeply penetrating rejuvenating mask, hot towels, neck and shoulder massage, extractions to cleanse your pores, and our ultimate eye treatment to target fine lines and tired eyes.
50 minutes $140 weekend / $130 weekday
Spring Bliss Day Package
Spend the day and let us pamper you! You will receive a spa lunch and three of our most popular treatments. Enjoy our relaxing classic aromatherapy massage to help with winter dryness and muscle tightness. You will also receive our skin rejuvenating medi-facial to renew winter skin by targeting fine lines, collagen production, and brighten your skin. Lastly you will receive our a 25 minute sinus, head, neck, and shoulder massage. You'll go home feeling refreshed and renewed! $340 weekend / $320 weekday
Call us to book any of these packages: 978 649-4400